Naomi's Blueberry Salsa

A sweet blueberry treat with a tantalizing bite.
Mix together 2 cups of chopped blueberries, 1 cup of whole fresh blueberries, 1/4 cup lemon juice, 2 1/2 Tbsp chopped cilantro, 2 seeded and minced jalapeno peppers, 1/3 cup diced red bell pepper and 1/2 Tsp kosher salt in a large bowl. Cover and cool for 5 hours.
Naomi's Blueberry Muffins
Preheat Oven to 400 degrees
Mix together and set aside:
2 Tablespoons Sugar
1/2 Teaspoon Cinnamon
Sift together and set aside
1 1/2 Cups Flour (all purpose)
2 Teaspoons Baking Powder
1/2 Teaspoon Salt
1/2 Cup Sugar
Beat Together
1 Egg
1/4 Cup Cooking Oil
1/2 Cup Milk
Add dry ingredients and mix until flour is just wet. Stir in 1 1/4 Cup of Blueberries (Do not over mix).
Pour into greased muffin cups and sprinkle with sugar/cinnamon mixture.
Bake for 20 minutes
Makes 12 muffins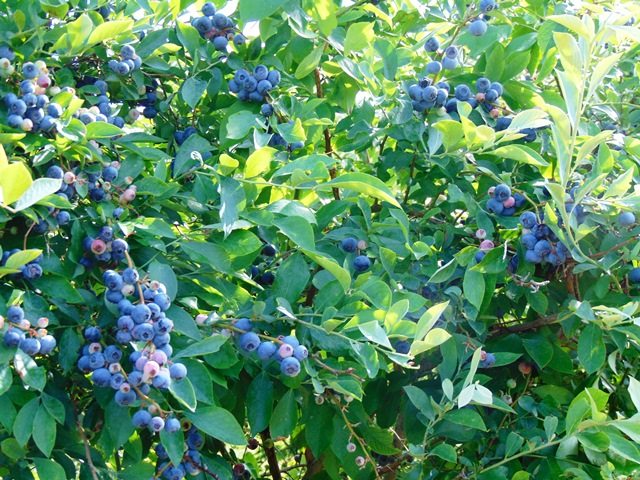 Blueberry Pie
Ingredients
1 pkg. refrigerated pie crusts
4 cups blueberries
½ cup sugar
2 ½ tablespoons cornstarch
1 tablespoon butter
½ teaspoon grated lemon peel
Instructions
Roll out one sheet pie crust to flatten. Fit into a 9-inch pie dish.
In a medium saucepan combine 1 cup of the blueberries, sugar, cornstarch and 2 tablespoons water. Bring to a boil; cook and stir until mixture is thickened and clear. Stir in butter; cool for 5 minutes. Stir in the remaining 3 cups blueberries and lemon peel.
Preheat oven to 400 degrees. Turn cooled filling into pie shell. Lay the remaining pie crust on a sheet of wax paper. Roll out to flatten. With a knife or pastry wheel cut pastry into 3/8-inch wide strips. Arrange in a criss-cross pattern on top of blueberries, pressing ends into the edges of the bottom crust and crimping to seal.
Place pie on a baking sheet. Bake in the bottom third of oven until crust is golden and filling bubbles gently, about 30 minutes. Cool on rack.
Variations
Cornmeal Crumb Top Variation: Do not use top crust. In a medium bowl combine ½ cup sugar, 1/3 cup flour, ¼ cup cornmeal, ¾ teaspoon cinnamon and 3 tablespoons softened butter until blended. Crumble over filling. Bake as above.
Decorated Lattice Variation: Cut top crust into ¾-inch wide strips. Set the two end strips and two short strips aside. Arrange remaining strips in a criss -cross pattern on top of blueberries. With the large end of a piping tip or a small knife cut out 15 small circles and 12 small leaves . Brush with milk and sprinkle with sugar. Place in clusters decoratively on the pastry lattice securing with a little milk. Bake as above.
Yield
8 portions
Per portion
317 calories; 48 g carbohydrate; 15 g total fat; 6 g saturated fat; 2 g fiber
Culinary tradition: USA (Traditional)
Source: U.S. Highbush Blueberry Council